LATEX INTRODUCTION COURSE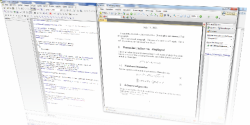 LaTeX is a powerful tool for creating a precise and consistent layout of text documents. Especially for the creation of scientific papers, the use of this tool is often indispensable in studies. During the four-day training course, an introduction to the basic concepts and capabilities of LaTeX will be given. By means of simple examples, the possible applications will be explained in an understandable way.
Previous knowledge is not required. Early registration is requested, as the number of participants is limited. The course is intended for students and employees. A certificate of attendance is available upon request. The course is held in German.